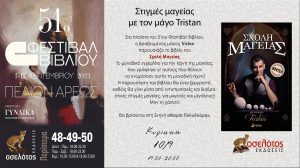 Sunday 10/9 / 19: 30 Book Presentation at the stage "Maria Polydouri"!
The award-winning magician and author of the book "Magic School" Tristan in an original Book Presentation, with a lot of magic! Special guests, the magicians: Perseus Arkomanis, Alex, Alexandros and Ermis!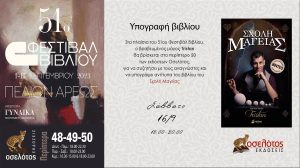 Saturday 16/9 / 18:00 – 20: 00 Book Signing!
The magician Tristan will be at the exhibition hall of Ocelotos publications, to meet you and sign your books!